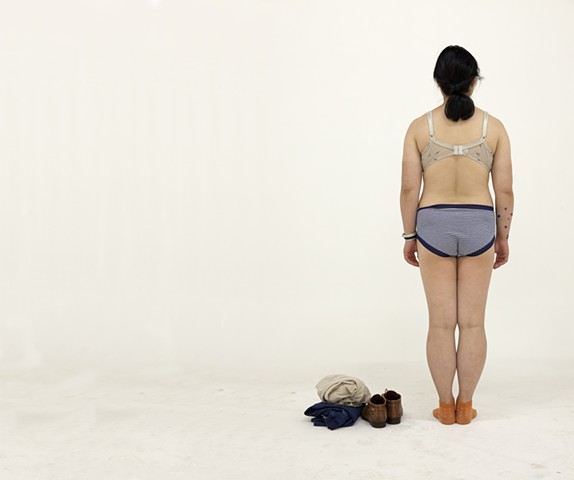 Ashe is interested in the politics of belonging and in finding new ways to challenge existing social borders and cultural boundaries. A central concern of Ashe's work is his personal response to dominant authorities and cultures that contradict his ideal of an inclusively diverse society, one that respects not only fundamental rights and freedoms, but also the social, cultural and sexual identities of individuals. Ashe's art is instantaneous, direct and without apology. Primarily known for his photographic and video installations, Ashe also paints, draws, stages performances and invites public participation in his work. At times humorous and at times confronting, Ashe elicits responses from his viewers. By inviting the audience to engage with politically loaded topics, he creates dynamic spaces open to dialogues. Ashe's artistic practice provides a powerful and often challenging commentary on what it means to look for a safe place to belong within contemporary society.
Ashe was born in Melbourne in 1974. He graduated from Sydney College of the Arts with a Bachelor of Visual Arts (Photography) in 1995, then went on to the Victorian College of the Arts where he achieved a Masters of Contemporary Art in 2014. Ashe has held solo exhibitions at The Rumpus Room, Kings ARI, Blindside Gallery and BUS Projects. He has also participated in numerous group exhibitions across Australia, and internationally, at Monash Gallery of Art, Melbourne; Lehrter Siebzehn, Berlin; tête, Berlin; Enjoy Public Art Gallery, Wellington; Gold Coast City Gallery, Gold Coast; The Substation, Newport; Plimsoll Gallery, University of Tasmania, Hobart; Campbelltown Arts Centre, Campbelltown; and Araluen Gallery, Alice Springs. Ashe was a 2014 recipient of Ian Potter Cultural Trust funding for supporting the diversity and excellence of emerging artists. Early career highlights include undertaking an artist residency at PICTURE BERLIN in 2014, and being selected as part of Nillumbik Shire Council's Artist in Residence Program at Laughing Waters in Eltham in 2012.
Much of Ashe's work features barriers that demand to be challenged or confronted. In the performance installation Untitled (your representation is my undoing) 1st Iteration, 2013 a man lies naked behind an extendable steel barricade, becoming a literal representation of the barriers appearing throughout Ashe's oeuvre. Obscured from the waist up, the barricade conceals his face—his identity—while exposing his genitals and his carnal vulnerability. In Untitled (new policy), 2013 Ashe's own body in motion becomes the physical boundary to be confronted. An oppressive and dominant force, Ashe repeatedly blocks artist Melissa Laing, who attempts to walk out of the ocean. Pushing her back, Ashe renders her attempts at safety futile. The work alludes to the Australian policy toward the treatment of asylum seekers and 'boat people', which is generally perceived to be very harsh. Untitled (Your representation is my undoing) 2nd iteration (Live Performance), 2013 involves five naked models standing together at the back of the installation. The entrance to the space where they stand is a threshold or barrier to be crossed; it asks the viewer to consider whether they will enter the room and thus become actively implicated, or stay on the outside, absorbed into the passivity of voyeurism. The borders in Ashe's practice are not fixed or final, rather, they exist to be contemplated and tangled with, danced upon and scribbled out, to be broken down with heated conversation and good humour, and ultimately, disposed of with dignity.